Different Stages of LED Gardening & Growing
GROWING WITH LED: WHAT TO CONSIDER FOR EACH STAGE OF CULTIVATION
As we touched on earlier, many types of LEDs have a fixed light spectrum that works for both the vegetative (growing) and flowering phases of cannabis. This way, you can just use the same light throughout your entire grow from seed until harvest.
Although this is convenient for most, there are those who want to fine-tune their lights for best results and optimal efficiency in each growing phase. For this purpose, some commercial LED lights have a switch to activate a veg light spectrum or a flower light spectrum. Here are some more factors to consider throughout each stage of growth.
A) LED LIGHTS AND SEEDLINGS
As soon as your seeds have sprouted, your soon-to-be cannabis plant will need light to grow. Compared to more mature plants, however, your  seedling is much more sensitive to intense light. Because of that, you should be careful when starting out with strong LEDs.
If your LED has a dimming option, turn your light to a lower intensity. If this isn't an option, consider moving your lights further up, away from the seedling. On the other hand, ensure that you do not move the lights too far up, as this could cause the seedling to grow lanky and thin.
Likewise, if your LED has a switch to activate either a vegging or flowering spectrum, set it to veg, where the light normally emits a "cooler" blueish light, which is optimal for this stage. Set your timer to 18 hours of light per day, with 6 hours of darkness.
As your seedling grows taller, stronger, and approaches the most robust part of the vegetative growing stage, you can then gradually increase the light intensity.

B) LED LIGHTS DURING VEGETATION
Set your light to 18 hours per day and 6 hours of darkness. Some growers choose to grow with 20–24 hours of light to maximise vegetative growth.
Monitor your plant's development; if all goes well, it should grow healthy, strong, and bushy. If it grows lanky and spindly instead, this is likely because your plant is not getting enough light. Increase the intensity by lowering the light toward the plant canopy or turning up the intensity using the dimmer if your light has one.
How long you want to veg your plant will normally depend on how much space you have available. You can technically let your plant grow under 18–24 hours of light as long as you want, but there will likely come a time when you want to switch to flowering, as the plant would otherwise simply grow too big. Know that some cannabis strains can stretch considerably (up to 2x or more) during early flowering. Take this into account upon deciding when to initiate the switch to bloom.
C) LED LIGHTS FOR FLOWERING
Photoperiodic cannabis starts to flower in late summer when the daylight hours naturally begin to diminish. Indoors, the grower is responsible for inducing bloom by setting the light schedule to 12 hours of light and 12 hours total darkness. If your LED light has a flowering switch, turn it to flowering mode.
When you flower indoors on a 12-12 schedule, it is important that the 12 hours of darkness are not interrupted. So make sure that your tent or greenhouse doesn't have any light coming in from outside. This would otherwise revert your flowering plant back to veg or potentially cause other issues such as hermaphroditism.
If your LED has a dimmer, now is the time to turn your light to its maximum intensity, or lower your light to the recommended distance from your plants for the flowering stage. If you are not sure what this distance is, most grow light producers have recommendations available.
Important: if you change anything with your lights, such as when you increase intensity and/or lower their position, make sure to do so gradually over several days, rather than in one go. Too sudden of a change can stress your plants too much.
If you're growing autoflowers rather than photoperiodic strains, you don't need to bother with initiating flowering by switching your lights to 12 hours on/off. You can just leave your autoflowers 18-24 hours of light per day up until harvest. Then again, if your LED light has a flowering switch, you should still use it once your autoflowers into bloom. This will help increase yield.
LED COMPARED TO HID GROW LIGHTS
HID lights, such as MH/HPS grow lamps, are still widely used as they are cheaper than good LEDs, yet are still reliable for growing top-quality weed. Furthermore, grow tent kits often include HID lights, so many new growers start out with these, rather than LEDs. If you're wondering now whether you should switch to LED, here are some more aspects to think about.
WHAT IS YOUR BUDGET?
Although you can get LED grow lights "for cheap" nowadays, many of these budget versions from overseas are not worth the money you'd save outright from avoiding high-quality fixtures. If you want quality LEDs, you will normally need to spend some good money to get a light that promises good yields and will last you a long time. So if you're on a budget and don't want to, or can't, spend a lot, it makes sense to continue with HID for the time being, rather than settling for a cheap LED. HID lights will still do a splendid job supporting growth and flowering—in fact, they can still outshine a decent amount of LEDs when it comes to performance.
HEAT PRODUCED BY HID LAMPS CAN BE A PRO OR CON
As already mentioned, HID lamps produce a large amount of heat. So, if heat in your grow room is a concern, you definitely want to look into LEDs. This can save you additional money on exhaust and cooling systems. On the other hand, if you grow in a cold environment, you may just want to stick with your HIDs as they keep the grow room cozy for your plants without needing additional heating.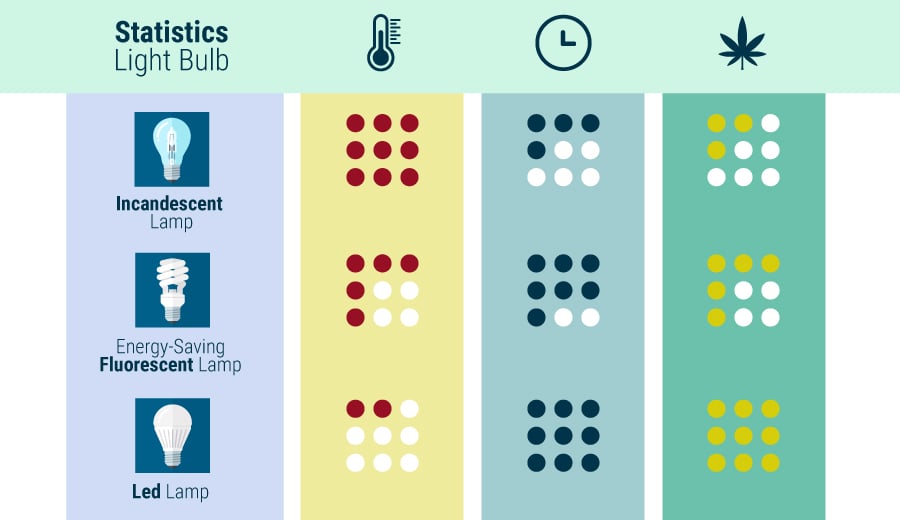 WHICH LIGHT GROWS BETTER (AND MORE) BUDS?
Are there any differences in bud quality and yield with LEDs compared to MH HID lights? Some growers say that MH lamps give better yields or "prettier buds" compared to LEDs. But there are also those who say that, although HID might give you better yields, LED lights makes for a better taste and/or overall better quality. Obviously, what is really "better" is open to interpretation.
HOW TO AVOID PROBLEMS WHEN GROWING WITH LED
Modern LED grow lights, for example COB lights, can emit light that is as intense as that from HID. If your plants are too close to your LEDs, this can lead to "light burn", with discolored or bleached leaves, nutrient deficiencies, and all sorts of growing troubles. Because of this, it is important to keep your LEDs the proper distance away from your cannabis plants.
There is no "one size fits all" recommendation for the right distance for all types of LEDs, since this varies greatly by type. It depends on the amount of light your LED is emitting, whether your lamp also uses lenses or reflectors, and so on. The manufacturer of your lights should clue you in to the recommended lamp distance from the canopy, either on the instructions that come with your lights or on their website. As a general rule, however, most LEDs should be about 30–45cm away from the tops of your plants to support healthy and vigorous growth.
Happy growing and Check out our LED's on Sale This September! 
Sample Block Quote
Praesent vestibulum congue tellus at fringilla. Curabitur vitae semper sem, eu convallis est. Cras felis nunc commodo loremous convallis vitae interdum non nisl. Maecenas ac est sit amet augue pharetra convallis nec danos.
Sample Paragraph Text
Praesent vestibulum congue tellus at fringilla. Curabitur vitae semper sem, eu convallis est. Cras felis nunc commodo eu convallis vitae interdum non nisl. Maecenas ac est sit amet augue pharetra convallis nec danos dui.
Cras suscipit quam et turpis eleifend vitae malesuada magna congue. Damus id ullamcorper neque. Sed vitae mi a mi pretium aliquet ac sed elitos. Pellentesque nulla eros accumsan quis justo at tincidunt lobortis denimes loremous. Suspendisse vestibulum lectus in lectus volutpat, ut dapibus purus pulvinar. Vestibulum sit amet auctor ipsum.